Our system has a completely unique performance. To verify and demonstrate the solution, we invest in conducting different types of tests.
Explosion tests
In order to demonstrate the unique performance of our system, we decided to conduct explosion tests. In June 2021 we invited suppliers and the certifying authority RISE Research Institutes of Sweden, were present

.

An exciting day was ahead of us.

Before the tests, we designed and produced a number of window sections and a glazed door.
Since our system had not been tested against blasting before, we decided to put two different glass combinations to the test; Keep Safe with glasses approved for level EXR3 and Keep Safe+ with glasses approved for level EXR1 and EXR3. The window sections measured a full 1500×2000 mm which, according to RISE, was larger than ever tested before. The door was made of glass for level EXR3.
We also rebuilt a 20-foot shipping container, where the units would be installed.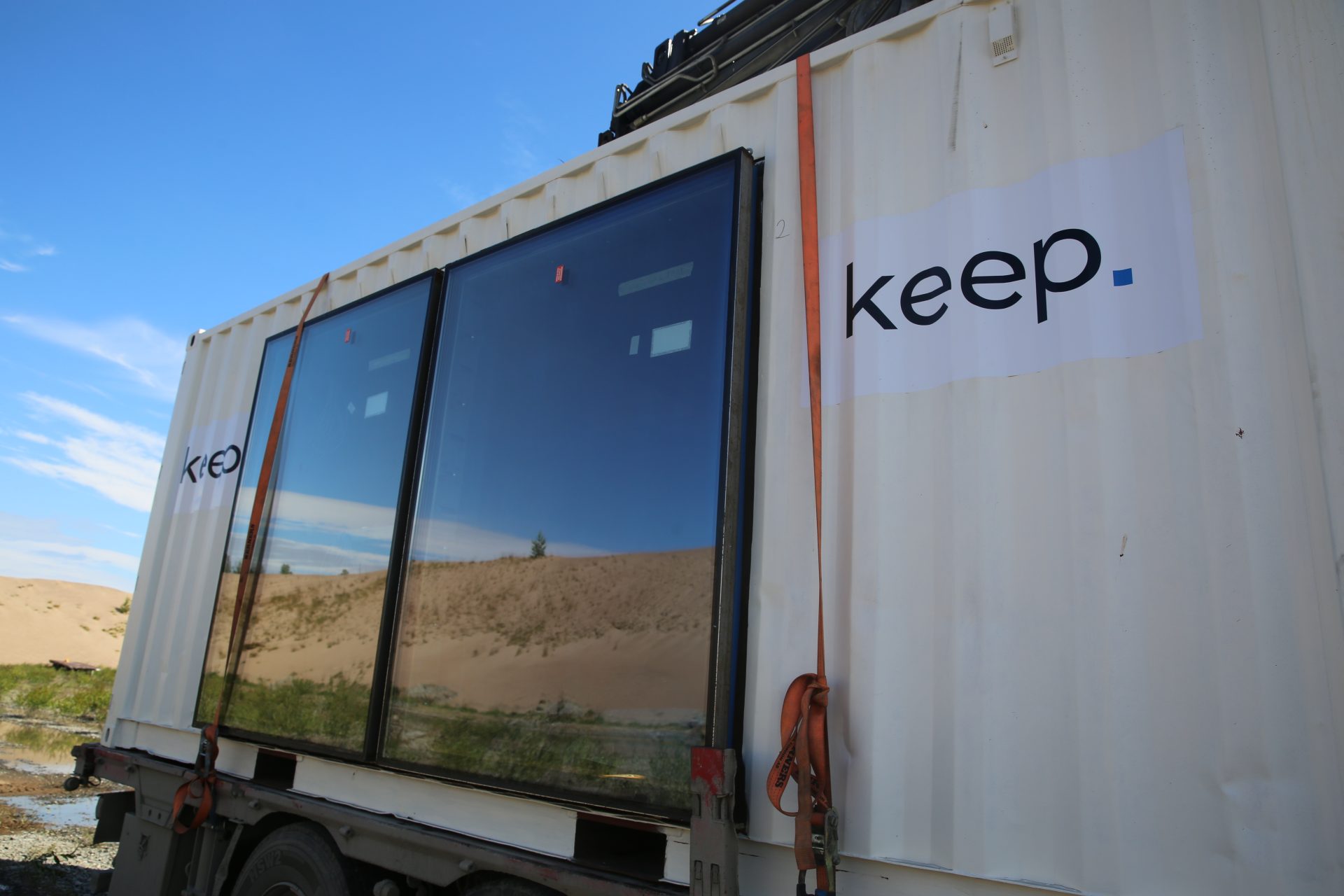 The tests were conducted on June 29 at Drivecenter Arena in Fällfors, Sweden. Our container was transported by a crane truck to a large sandpit on the outskirts of the test facility. Present were representatives from RISE Resarch Institutes of Sweden as certifying authority and the explosives manager Torgny Tjärnlund from Bergteamet.

On site were also important suppliers who were as excited and expectant as us. Would this really work?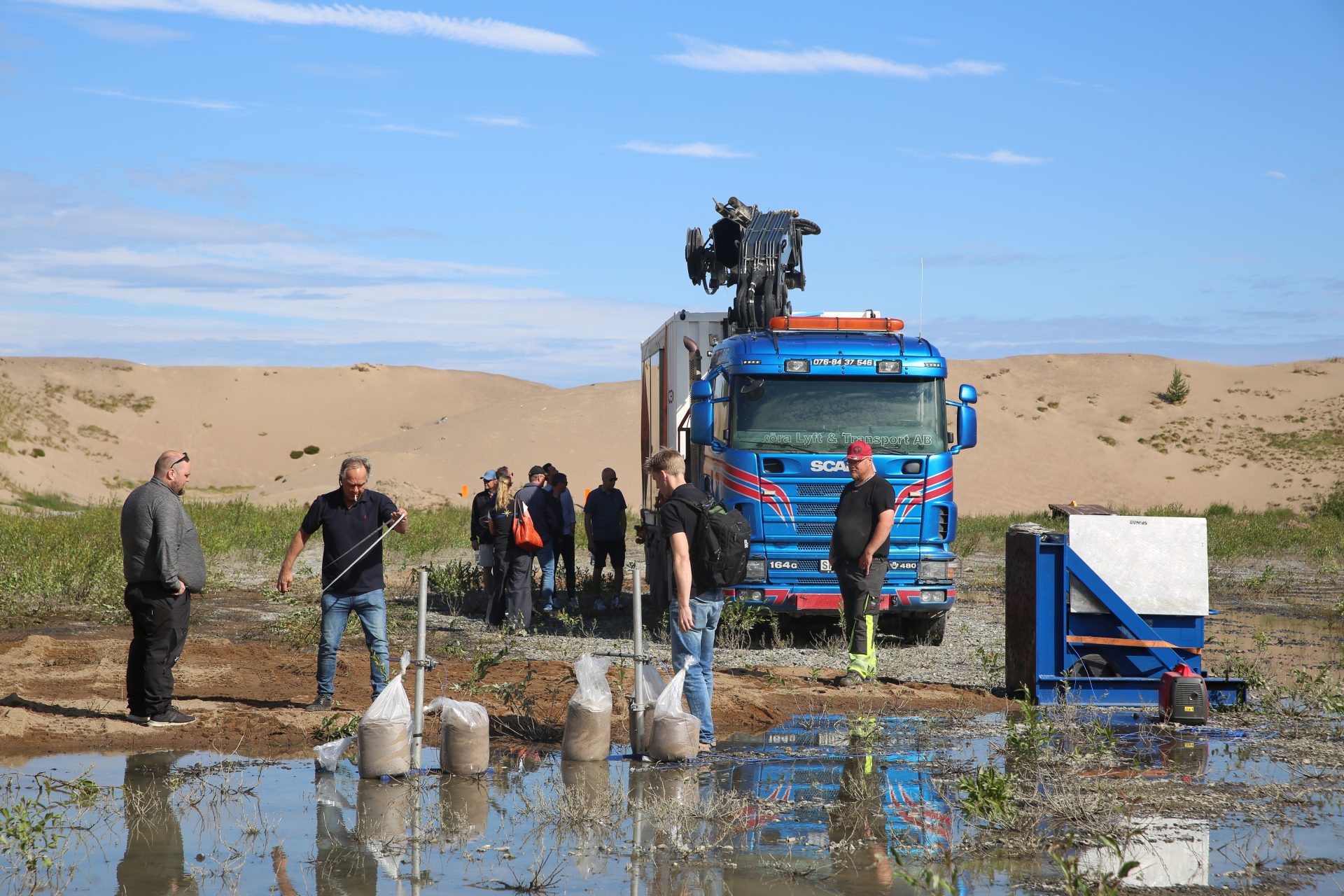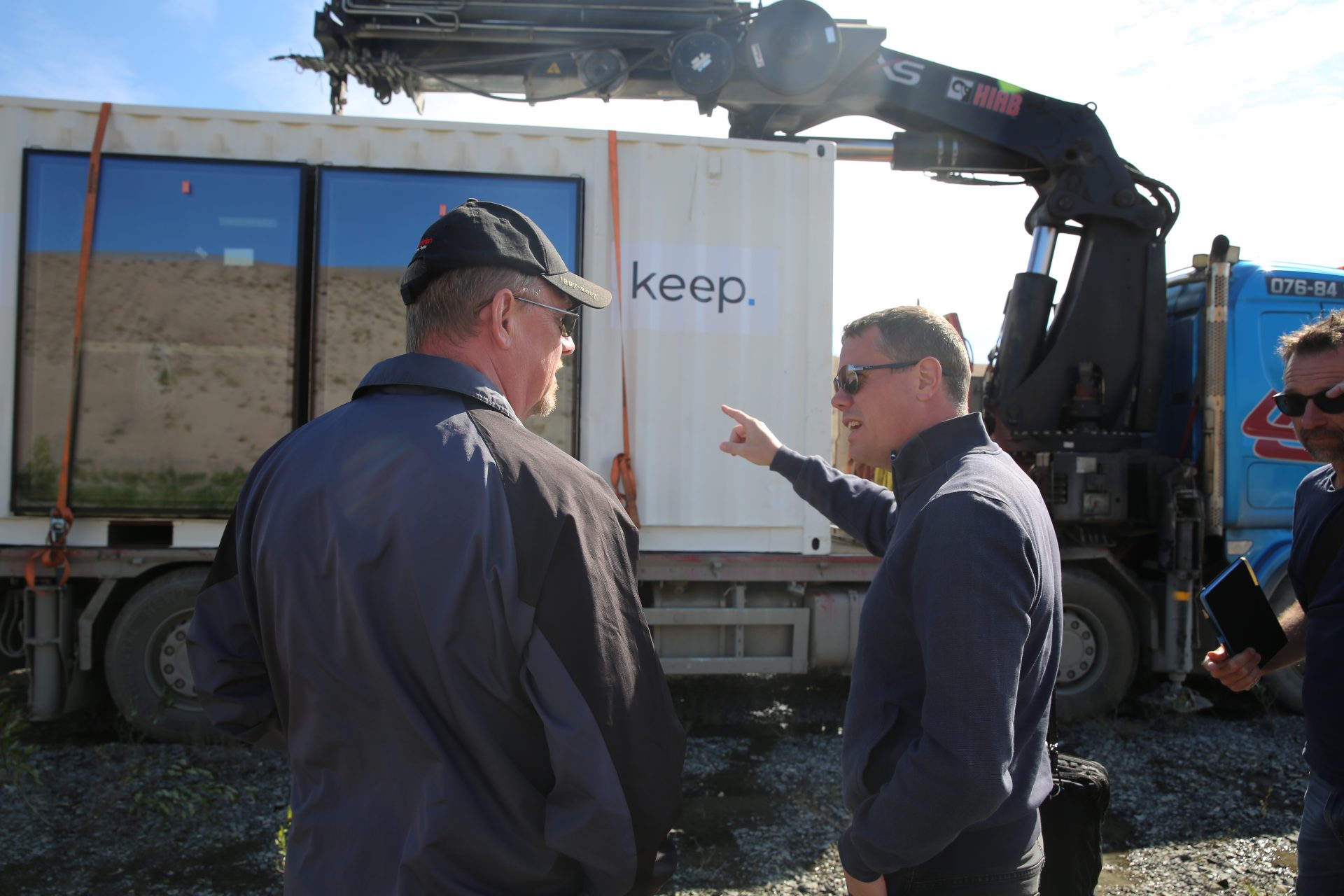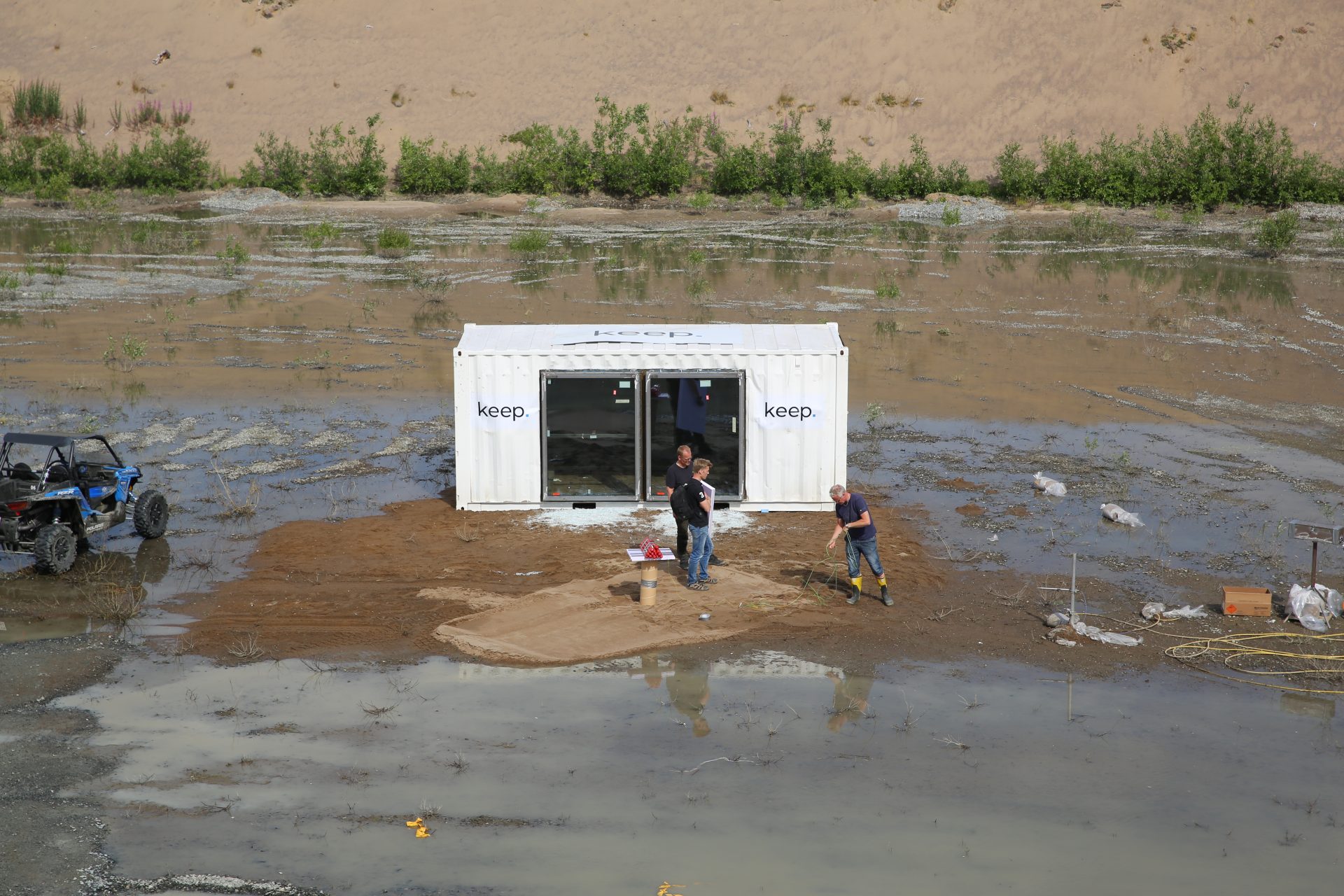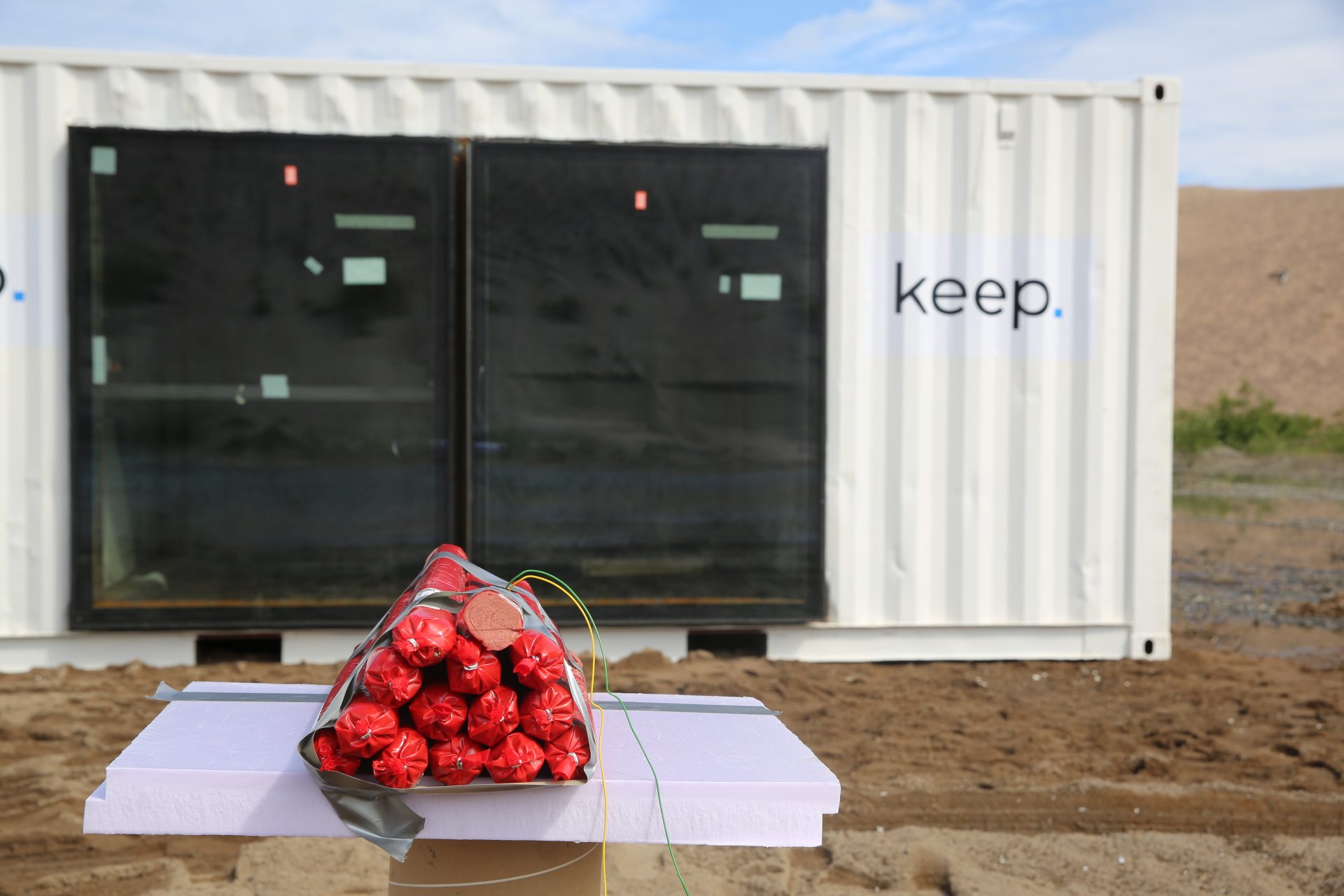 We started by testing our Keep Safe solution, together with a glass dimensioned to withstand 3 kg of dynamite. (EXR1 level). Torgny loaded with 14.6 kg of dynamite, which corresponds to level EXR3.
When everything was rigged, everyone took a seat behind the sand dunes at proper distance from the test area. The tension was almost tangible as the countdown started.  The loud bang made the ground sway and a dark cloud of gunpowder rose to the sky.
The following walk from the security area to the blast site was nerve-wracking, to say the least, with mixed emotions of both trepidation and anticipation. What could we expect?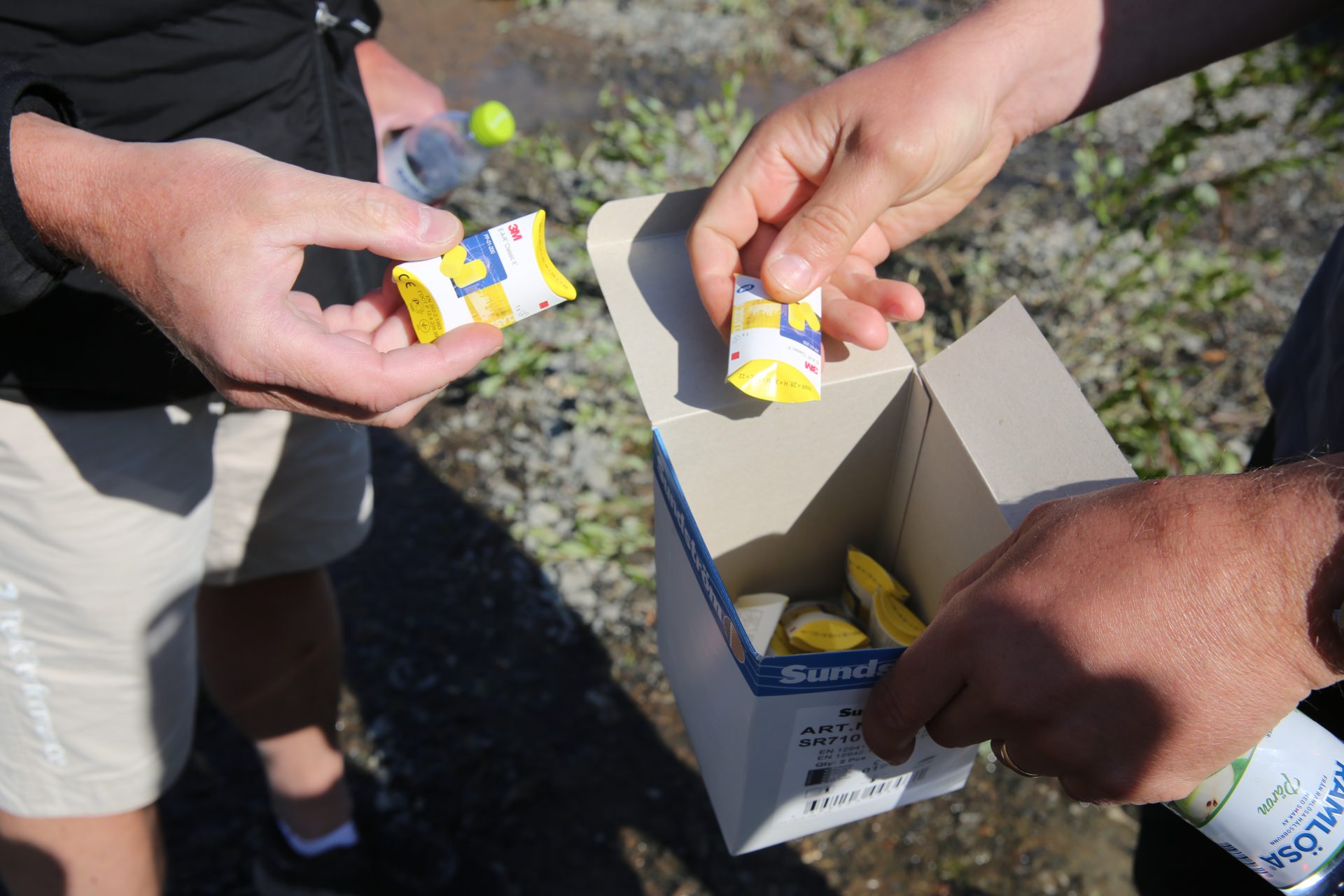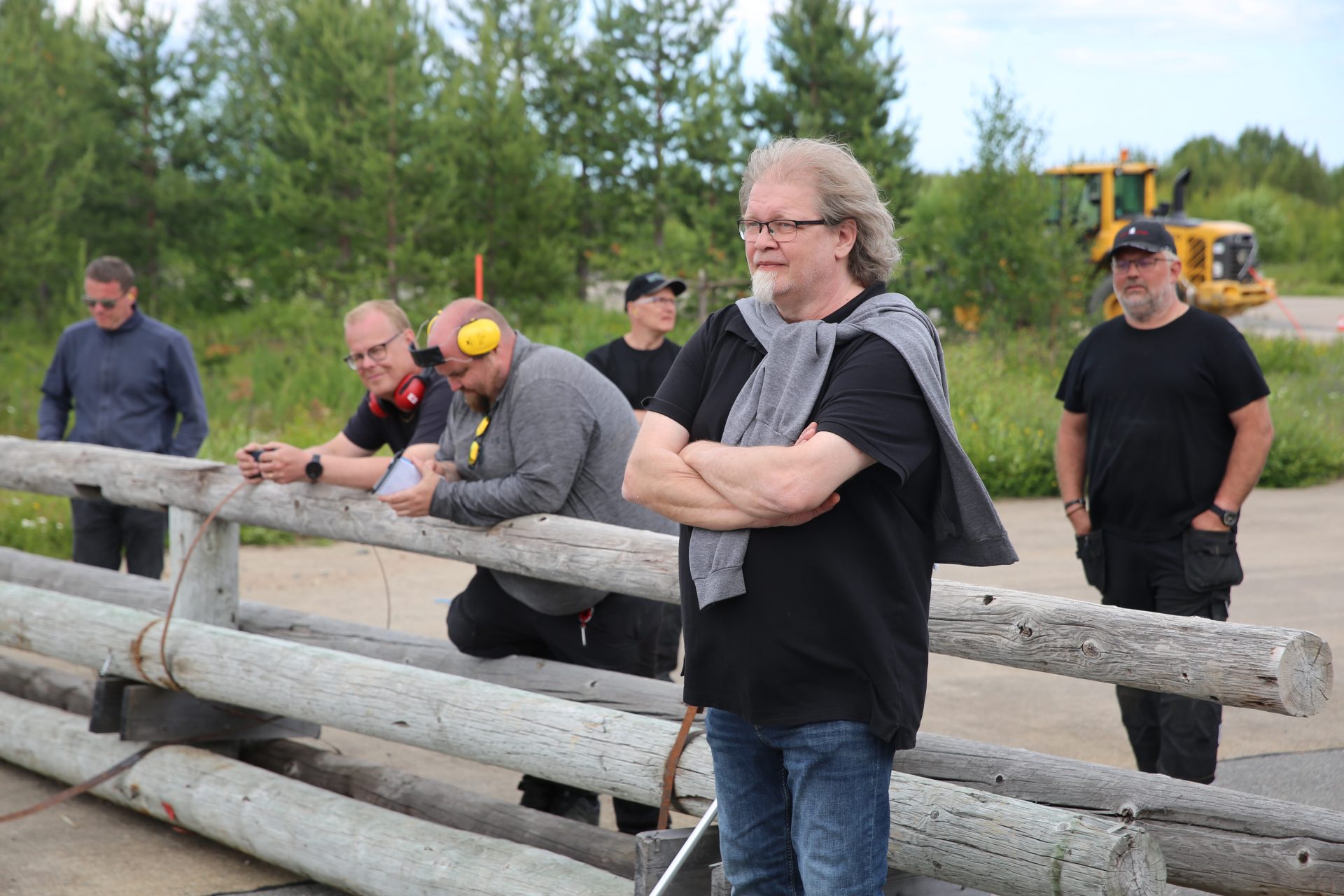 As we approached and realized that both the glass and the frame were intact, a sense of euphoria spread among us all. The glass had withstood the pressure and there were no splint on the inside of the container, which is one of the prerequisites for a passed test. This was even better than expected.
Next window to test was equipped with our Keep Safe+ system with glass approved for level EXR1, which corresponds to 3 kg of dynamite. With our gained self-confidence, once again 14.6 kg was loaded.  And once again, we were able to state that we have an extraordinary product.
Strengthened by the successful outcome, we became more courageous. We decided to test against the highest level, EXR5 with our Keep Safe+ solution and EXR3 glass. Same procedure but with 23.4 kg of dynamite. Success again!
Afterwards we were told that the explosion had been heard many many miles away. But our construction still stood firm.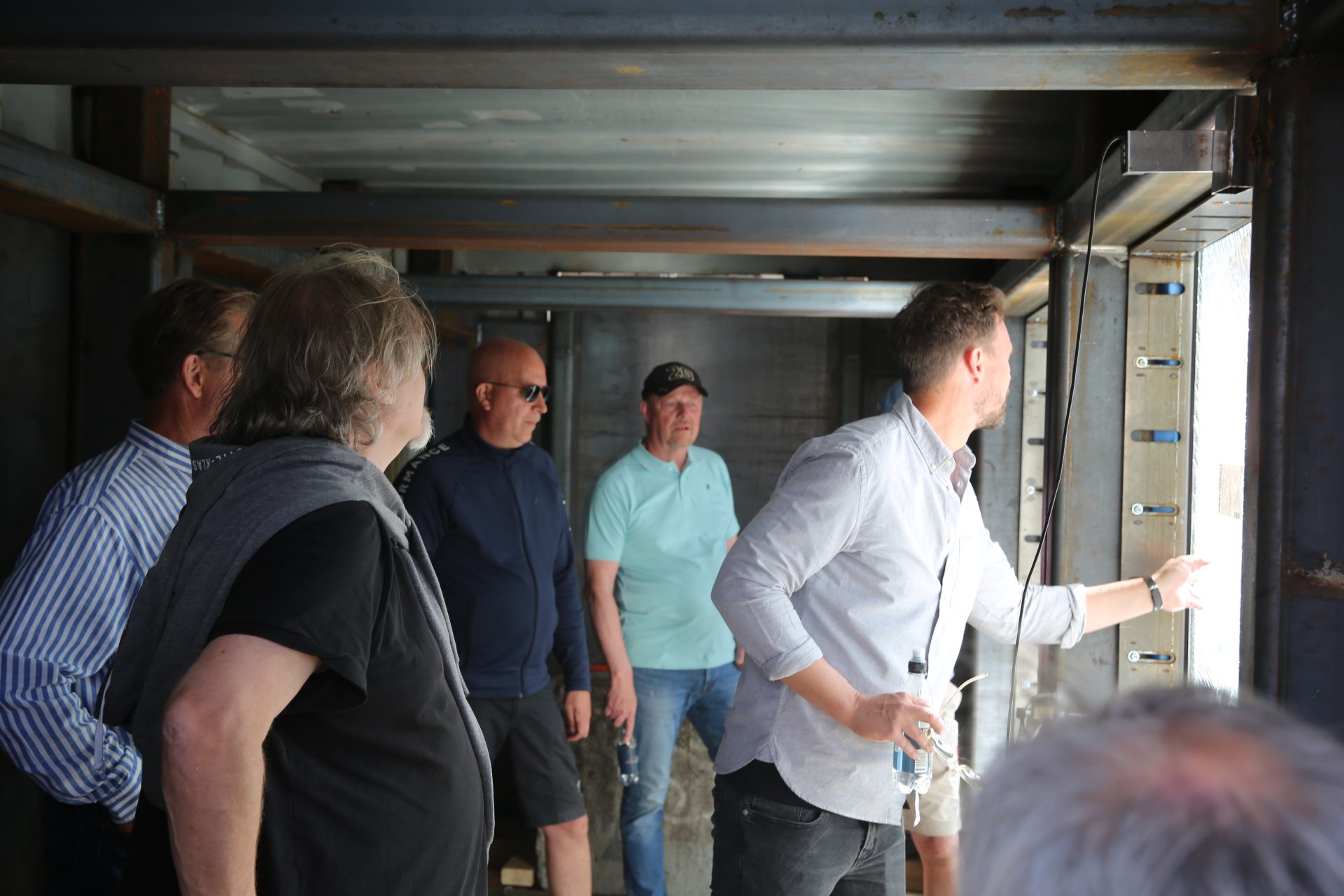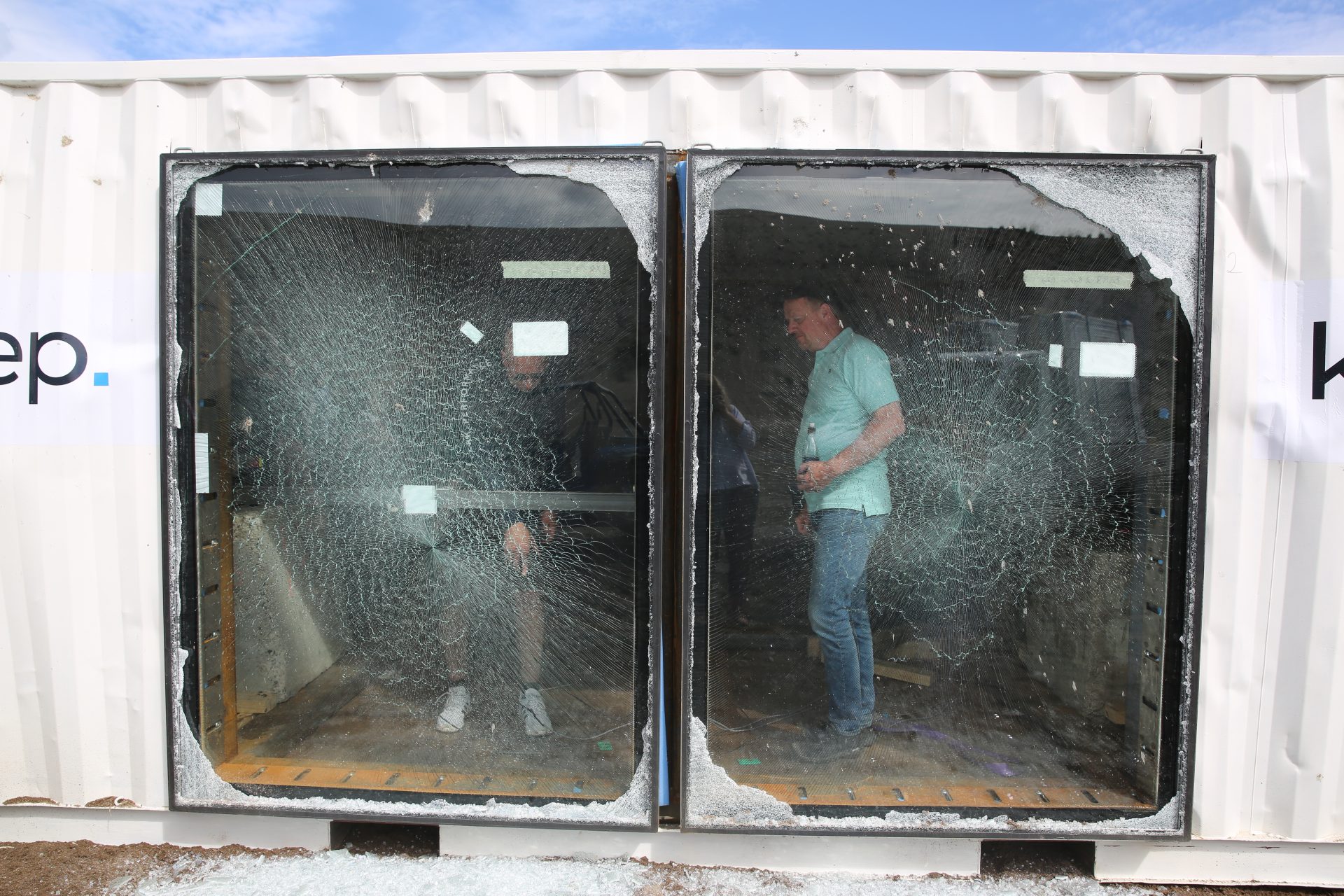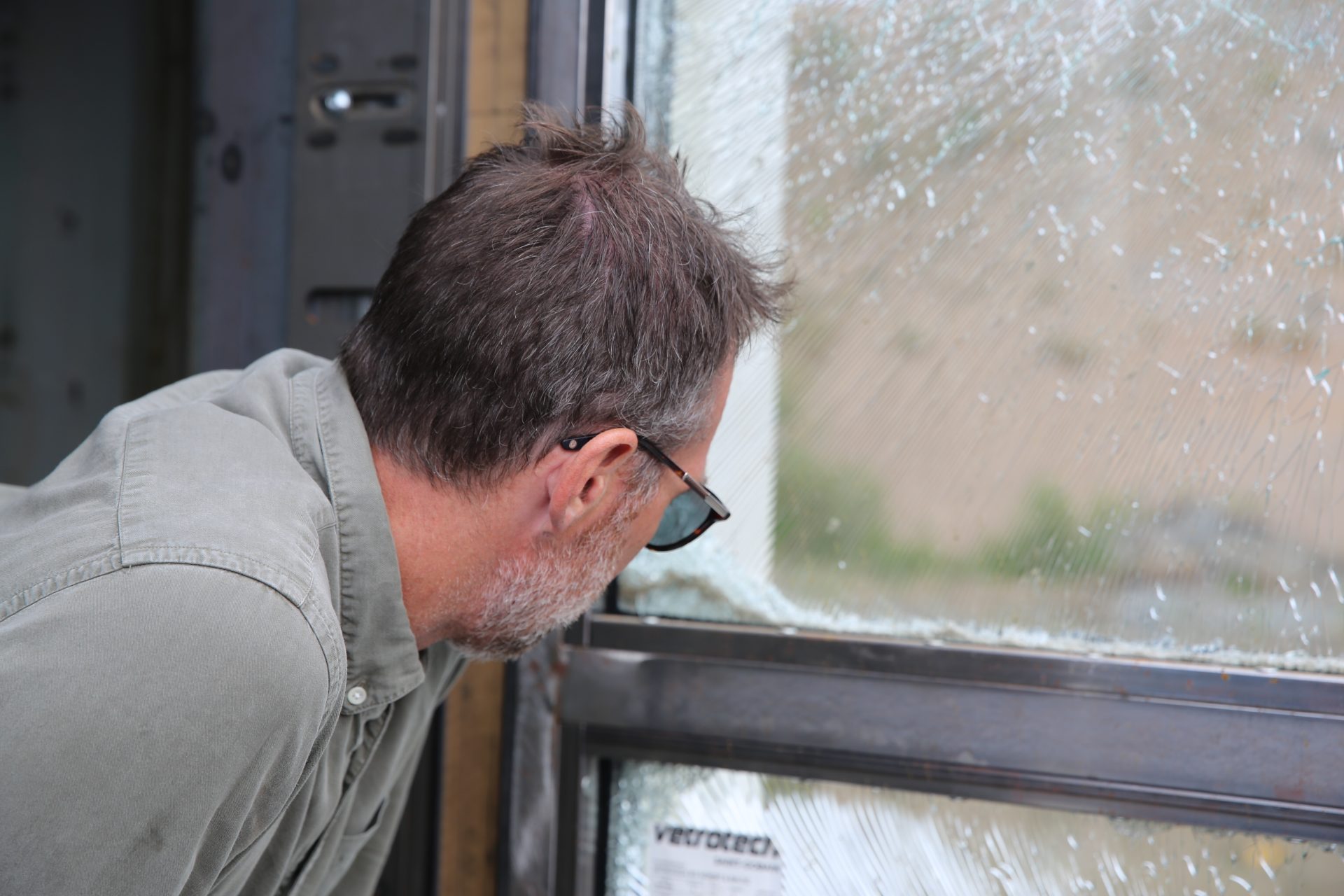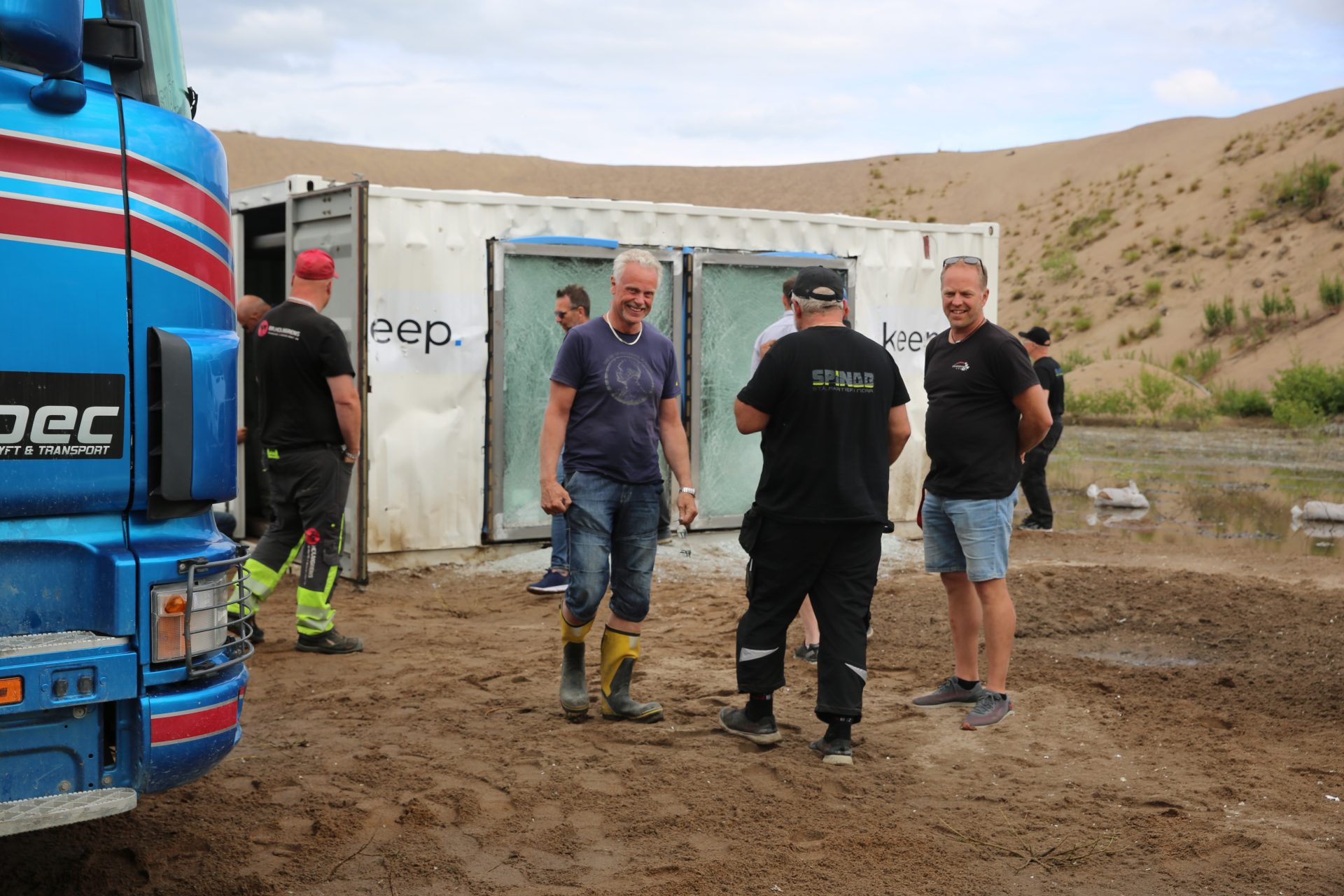 The suppliers cheered along with us. Torgny Tjärnlund, a professional blasting engineer with more than 40 years of experience, could not believe his eyes.

The tests confirm that we have a verified solution for mounting window sections with thinner glass. Smooth design constructions at lower costs for our customers, still maintaining the highest level of security.
All successful collaborations

begin with a dialogue